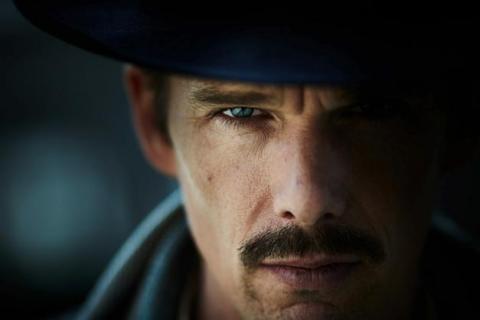 Time travel is always a tricky genre to make into an entertaining watch, not only does continuity have to match the story but also the challenge so the audience gets it in one hit. Successful attempts have been the excellent 2007 Spanish film "Time Crimes", Adrien Brody in "The Jacket" and of course the "Back to The Future" movies
The story revolves around a time-travelling Temporal Agent played by Ethan Hawke. On his final assignment, notable Aussie actor (Game Of Thrones) Noah Taylor who is his boss issues instruction to pursue the one criminal that has eluded him throughout time, the "Fizzle Bomber" a lunatic 70's terrorist who threatens to blow up New York City and kill thousands. He then recruits John Doe an intersex writer for a woman's magazine who he strikes up a relationship with in a bar where he works.
Australian actor Sarah Snook (John Doe) for me is a real find, a young androgynous Jodie Foster she plays both parts pre and post-operation roles with gusto convincingly. The first 50 minutes of the film is an engaging dialogue in a bar between Hawke and Snook, she excels with her story that "will blow you away" as a bet to win a bottle of whiskey, recounting her upbringing in an orphanage as an ugly "duckling" without experiencing real love, before having a baby and choosing to live her life as a man.
Ethan Hawke is perfect as the almost broken agent hell-bent on one last go to catch the Fizzle Bomber before being decommissioned to live out his days, early retirement is ensured because time travel can bring upon health risks (who would've thought?)
Aussie directors The Spierig Brothers have done a great job to disguise modern day Melbourne (albeit a couple of skyline shots) writing a solid screenplay based on Robert A. Heinlein short story All You Zombies and taken a punt casting a couple of Australian actors in lead roles looks to have paid off. However one would've thought the violin case time machine was an antiquated look, but as Hawke explains, given that time travel was invented in the 80s this may explain the strange looking stringed "flux capacitor"
This is by no means an easy watch, it's a film that demands every iota of attention as its story fabric weaves between different decades and time travel sub plots. If you do however, you will be rewarded with an absolute ripper of a film experience that will have you guessing to the end – time travel: what a bitch
*** 3/5